Arcam rCube - £500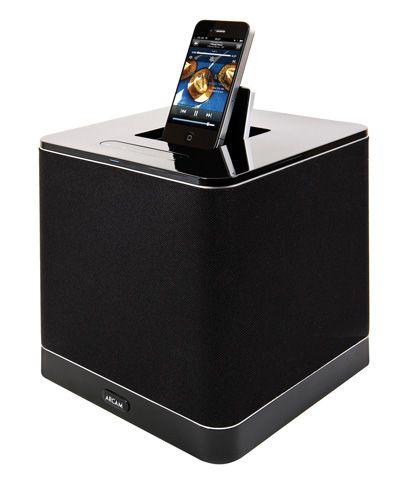 Cube is no square
Arcam has distilled its audio expertise into a compact iPod system – the rCube. Richard Black asks if this is the ideal office/kitchen set-up?
All sorts of 'iPod solutions' have popped up in the last few years, responding to the quite astounding popularity of Apple's little devices. Arcam has had docks in its catalogue for a while, but this is something altogether more comprehensive, basically making up a full music system when an iPod is plugged in.
Inside the compact, but quite heavy housing (and yes, it is indeed a cube, 200mm each way) are stereo speakers, amps to drive them and the full iPod dock shenanigans.
Coola cube
It's a nice concept, if hardly new – the Bowers and Wilkins' Zeppelin is probably the best known example of the breed. But Arcam has come up with some nice features for the rCube which help to single it out. For a start, it includes a battery which can run it for several hours, up to 10 hours of not-too-loud music and six-to-eight hours of quite loud sounds.
There is an external power supply, of course, which charges the internal battery as well as running the unit itself. For portable applications, there's a handy recess behind the dock connector which functions as a carry handle. The cover of the dock connector, when open, doubles as a support for the iPod so it doesn't risk snapping off the connector. And with an optional wireless dongle you can connect the rCube to a media server and play tracks stored on it. If you're really old-fashioned you can even plug an analogue source into the mini-jack at the rear.
All that adds up to a very attractive bundle. The thought of playing tracks off your iPod or computer anywhere in the house, or the garden, or the garage, is tempting – not to mention the opportunities the rCube affords for running an office/kitchen/spare room system.
One thing you won't be tempted to do is carry it very far, as it's surprisingly heavy for its weight, thanks not least to the cast metal frame on which it is based. Operation is not always amazingly intuitive either, but one soon gets used to it.
Easy living
Arcam suggests that the rCube will benefit from corner placement, something that's unusual for hi-fi – most speakers sound quite horrid if they're too close to a corner. But for a unit like this, with left and right speakers only a hand-span apart and with (deliberately) curtailed bass response, it's a suitable enough position. And having found a corner we enjoyed the results, but we were just as happy with placement against a wall. The only thing here is that bass is just a shade light with bass enhancement (a rear panel switch) off and sometimes rather heavy with it on.
Get-up-and-go
You're unlikely to fret too much about the bass, though, because it's the midrange that makes the best impression here. It is clear, detailed, punchy and very communicative and it makes the rCube instantly likeable. If it has a weakness, it's an unsurprising one in favouring smaller-scale music over glam rock or a symphony orchestra – the largest groups of performers lack some insight and definition, but even here there's lots to like and a degree of get-up-and-go that keeps everything alive.
Convincing performance
Perhaps surprisingly, there's quite good stereo, at least in the near vicinity of the rCube. Further away, even with wall or corner placement, there's less spread to the image, but still a reasonable impression that sound is coming from more than just one spot. Loudness is satisfying in small and medium-size rooms and decent, if a little limited, in larger spaces. Sonically, this is a very convincing bit of convenience audio kit. Only time will tell, though, whether an iPod-based system like this is the perfect luggable source.
LIKE: Impressively capable sonically, with good, clear sound
DISLIKE: Wi-fi connectivity is an optional extra and it could do with a radio tuner
WE SAY: If you have a music library on an iPod, this is a great way to enjoy it (almost) anywhere

DETAILS
Product: Arcam rCube
Origin: UK/China
Type: iPod system
Weight: 5kg
Dimensions: 200mm cubed
Features:
• iPod dock
• Analogue input
• Bass boost switch
• Video output (composite or component)
• Wireless input (requires Arcam USB dongle or iPod adaptor)
Distributor: Arcam
Telephone: 01223 203200
Website: arcam.co.uk
Inside this month's issue:

Marantz's SACD 30n & Model 30 SACD player/integrated amp, Acoustic Energy's AE520 floorstander, Pro-Ject's Debut Carbon EVO turntable, desktop DAC Group Test, John Lennon remembered and much more...
Standout tracks from our
Music Reviews
section, plus our current favourites to play in the
HFC
office.