Philips Fidelio DTM9030 - £700
Philips' Fidelio active speakers combines all the source and connectivity options you're likely to need, and it's fun says David Price
Can you imagine the seventies without Compact Cassette, or the eighties without Compact Disc? Philips was one of the great innovating consumer electronics companies of the last century, easily surpassing most of its Japanese and American rivals. It may not have had the marketing nous of Apple, but it has originated far more technology than anyone in Cupertino ever did.
But what of this century? Many would say its performance has been something of a mixed bag, but more recently there have been encouraging signs. A few years ago, it came up with its new audio brand 'Fidelio'. Since then we've had a range of audio products – including some excellent, class-leading headphones – and Philips is now doing loudspeakers. Considering the vast range of functions these speakers have, and their large size, you seem to be getting a lot of speaker for the money. They're not horribly plasticky as some might fear – they're made from wood and finished with high-gloss piano lacquer and aluminium.
Two 80W Class D amplifiers supply the motive force, and these are run from an input section, which offers a variety of sources including aptX Bluetooth, CD, RDS FM tuner and coaxial and optical digital inputs. Two Lightning connectors are fitted, plus a 30-pin iPod dock, and a conventional 3.5mm analogue line input too. One speaker effectively acts as the master, and the other the slave; you need to run the supplied speaker cable from the former to the latter, and plug the former into the mains. It's a neat, easy to use package – complete with a top-mounted, slot-loading, motorised CD drive and an excellent aptX Bluetooth implementation that works flawlessly during the review period.
Sound quality
The rear-firing bass port means these speakers aren't ideal to push up against the rear wall of your listening room, unless you need some boundary reinforcement. Sat about 30cm out into the room, and toed-in slightly, I find they give an even, balanced sound. Kicking off with Air's All I Need via aptX Bluetooth from an Apple iPad, I am surprised by the delicacy, smoothness and spaciousness of the sound. The track's lovely backing synthesiser glides are carried realistically, while the female lead vocals are smooth and don't jar. The over modulated electric organ sound doesn't grate, not something you can say about most speaker systems of this type on this track.
The built-in DAC gives a nice, fulsome sound, maybe a little richer and punchier than the Bluetooth, making AC/DC's Highway to Hell a joy. This system can go loud in a medium-sized room before it starts to break up, and it doesn't fall apart at anywhere approaching high volume levels, either. Bass is reasonably extended and surprisingly tuneful, and it integrates well with what is quite a well turned out tweeter. Cymbal crashes sound far more 'hi-fi' than they do 'audio', and vocals have a decent degree of rasp and grit without descending into coarseness. Overall, this track comes across with its energy intact, making listening consummate fun.
Conclusion
Indeed, across all sources, the Fidelio speaker system proves itself to be an entertaining and enjoyable partner. You wouldn't replace your budget separates system with it, but it's certainly not a case of feeling the need to replace it with a starter separates system either. Instead, it treads a well judged path between being a truly convenient audio system, and a hi-fi system that's capable of making music. Well built (at the price), full of features and capable of filling a good sized room with sweet, smooth sound – there's plenty to like here. It won't do Philips' reputation any harm.
LIKE: Versatile active speaker system with engaging performance
DISLIKE: Slightly dull looks, but little else at the price
WE SAY: Entertaining and musical package that will appeal to anyone looking for a fun start into hi-fi
DETAILS
PRODUCT Philips Fidelio DTM9030
ORIGIN Hong Kong
TYPE Two-way active floorstanding loudspeaker
WEIGHT 26.3kg
DIMENSIONS (WxHxD) 300 x 985 x 300mm
FEATURES
• 1x 25mm soft dome tweeter
• 2x 100mm polypropylene mid/bass drivers
• Claimed 2x 80W Class D amplifier
• Built-in CD player, FM radio, iPod dock, Bluetooth with aptX
DISTRIBUTOR Philips Europe
TELEPHONE 0800 331 6016
WEBSITE philips.co.uk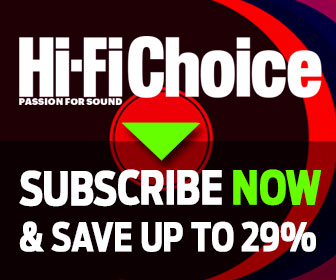 Inside this month's issue:

Cyrus Audio's i7-XR integrated, Neat Acoustics' Orkestra floorstander, Mark Levinson's No5105 turntable, JBL's L82 Classic loudspeaker and a six-way budget floorstander Group Test and much more...
Standout tracks from our
Music Reviews
section, plus our current favourites to play in the
HFC
office.