Sonus faber Olympica II - £6,998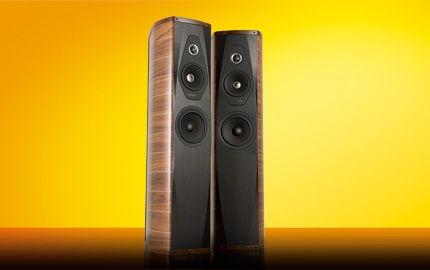 Any new Sonus faber speaker is special says David Price, but can the Olympica II floorstander live up to the promise?
The past few years have been a prolific time for Sonus faber. The company now has a burgeoning range of products; no sooner was the 'affordable' Venere range launched than the Olympica popped up at last year's High End Show in Munich. The II you see here is in the middle of a three-strong range; the I is a standmount, whereas the III is a larger floorstander with an additional bass driver to the II's existing three.
The woodwork is lovely, the detailing exquisite, the finish immaculate – and yet the speaker feels even nicer still. It's funny how when other speaker companies go to town on build and finish, they never seem to get it quite so spot on. The review samples come in gorgeous walnut wood with maple joints, the top, front and rear baffles get natural leather (not vinyl) surfacing and the side-firing vertical reflex ports are covered by a perforated metal sheet. If any other company were to do this, it would look gaudy and vulgar, but here it's divine.
There's an interesting drive unit complement, starting with a 29mm silk dome tweeter based on that of the high-end Aida. It has an 'Arrow Point' damped apex dome, which is said to be a synthesis of the classic dome and ring transducer, and a new Neodymium magnet-powered motor system. The 150mm midrange driver uses a composite former eddy current-free voice coil, and the cone sports a blend of traditional cellulose pulp, kapok, kenaf and other natural fibres, and is said to give the most natural sound. This gets a transparent viscous surface damping coating. The woofer is a 230mm affair with a sandwich cone membrane that combines a heart of hi-tech rigid syntactic foam with external layers in treated cellulose pulp. There's a 1.5in voice coil and powerful long stroke magnetic motor.
The units cross over at 250Hz and 2.5kHz; this isn't particularly unusual, although Sonus faber says the progressive slope crossover design has its amplitude/phase response optimised for best space/time domain performance. Claimed frequency response is 40Hz to 30kHz, and sensitivity is quoted at 88dB/1W/1m. Suggested amplifier power is 50W to 250W with a nominal impedance of 4ohms; a good, strong solid-state amplifier is needed. Listening tests show the speakers work surprisingly well close to a rear wall, although ideally you'd want them out at least a metre into free air, and slightly toed into the line of sight of the listener. Generally, the Sonus fabers prove pretty easy to get along with by the standards of their price class.
Sound quality
The II is a nice size. In a largish (but not huge) British listening room, it sits perfectly. By the time you get to spend £7,000 on a pair of speakers, you're getting into tricky territory; electrostatics, ribbons, hybrids, etc, all often prove hard to partner and position. Yet there's no such drama here – it delivers an expansive and three-dimensional sound with no tonal anomalies.
Bass is firm and insistent, but never overpowers the room or the music; instead you feel it's an important constituent part of the whole, rather than something that stands out on its own. As Black Uhuru's Great Train Robbery shows, it can start and stop with alacrity, being fleet of foot enough to really get into the musical groove. Yet you never get the feeling that the speaker is trying to embellish the music; down in the bass especially, it's clean and taut and matter of fact in the best of ways. If you want a huge, booming cacophony don't buy this.
Put on the amazing eponymous track from electro stylists LFO and you'll soon realise that it is commendably well extended, if not exceptionally so.
One satisfying thing is how well the bass melds into the midband; it's very seamless and all of a piece. There's no sense of two drive units competing – as happens on lesser three-ways – instead you're lead to a wonderfully fragrant midband with space and colour. The Sonus faber isn't one of those ultra clean speakers that sounds like it's trying to be a monitor; instead it goes for a slightly warmish midband that casts a gentle amber light across everything. This isn't a criticism, because it takes a fraction of the edge off some really steely recordings like The Castaways' Liar Liar, making it just that little bit more palatable. What I like about the midband is that it manages to be detailed and high in resolution without veering into hardness and shrillness; some high-end speakers don't and can have you running for the door when you play less than perfect recordings.
The high frequency performance is good, and pretty much up to par with the rest of the speaker. At this price you might crave the smoothness and delicacy of an Apogee ribbon or a good electrostatic panel like a MartinLogan. But those speakers can have their own issues and fall behind the Olympica II in the bass, for example. The important thing is that the Sonus faber's treble doesn't pull the otherwise very high standards of performance down. It's a fine example of a well-designed dome tweeter, and gives a lovely sparkle to the hi-hat work on the earthy rock of REM's Near Wild Heaven. Feed it the opening cymbal of Isaac Hayes' Theme From Shaft and it serves up a sweet and tactile sound, the tweeter proving sensitive enough to get up close with the sticks on the cymbals. It integrates beautifully, giving the impression you're listening to one loudspeaker per channel and not two or three.
This is a very well voiced speaker then, one that's tonally coherent with no difficult spots that draw attention to mismatched drivers or poorly executed crossovers, but how does it fare in the time domain? This is always a leading question for big three-ways, as there's a lot to integrate. Happily, the Sonus faber works very well, with a decently taut and grippy sound that never smudges or blurs leading edges. It lacks the razor-sharp transients of a good electrostatic, but there's not much in it and the Olympica II comes over as fast and controlled. So much so that it lets you focus right in on differing strands of the music, and follow them with ease. This ability to separate out the different elements in the mix is the mark of a fine loudspeaker.
Another aspect of a speaker's phase performance is its imaging and depth perspective, and again it scores highly. Spatially it's a wide and expansive performer, which – although lacking the sheer vastness of a large panel loudspeaker – manages to sound far less shut in than some conventional rivals. Cue up a classical Deutsche Grammophon recording of Beethoven's Pastorale Symphony and you're left in no doubt that the Olympica can place instruments in the orchestra accurately and resolve right back to the rear of the hall. Only on full-blown dynamic crescendos do you ever get a sense that it isn't quite as powerful and expressive as larger, cost-no-object designs. It's a delicate but detailed sound then, one that's sophisticated, dynamically engaging and musically satisfying – and never less than lovely to listen to.
Conclusion
Pretty much all £7,000 loudspeakers are accomplished in one way or another, so the choice of purchase comes down to the performance characteristics you value most. The Olympica II appeals to those seeking a great all rounder, something that gives a powerful, spacious and detailed sound with an even tonal balance, strong bass and smooth, extended treble – whatever type of music you care to play. It is brilliant in no single area, rather its strength lies in its high general competence. It's an important new player in the high-end floorstander market and well worth an audition if you're looking for a consummate multi-tasker.
LIKE: Balanced tonality; satisfying musicality; build and finish
DISLIKE: Slight lack of dimensionality, but otherwise nothing
WE SAY: Gorgeous, beautiful sounding premium floorstanders
DETAILS
PRODUCT Sonus faber Olympica II
ORIGIN Italy
TYPE Three-way floorstanding loudspeaker
WEIGHT 68kg
DIMENSIONS (WxHxD) 370 x 1,055 x 472mm
FEATURES
• 29mm 'Arrow Point' dome tweeter 

• 150mm pulp fibre composite midrange driver
• 230mm sandwich membrane bass driver
• Quoted sensitivity: 88dB/1W/1m
DISTRIBUTOR Absolute Sounds
TELEPHONE 0208 9713909
WEBSITE absolutesounds.com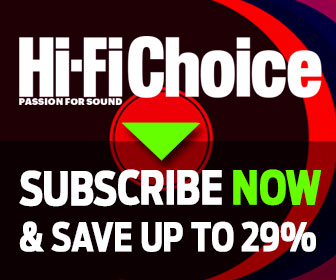 Inside this month's issue:

Cyrus Audio's i7-XR integrated, Neat Acoustics' Orkestra floorstander, Mark Levinson's No5105 turntable, JBL's L82 Classic loudspeaker and a six-way budget floorstander Group Test and much more...
Standout tracks from our
Music Reviews
section, plus our current favourites to play in the
HFC
office.