Spendor D1 - £1,795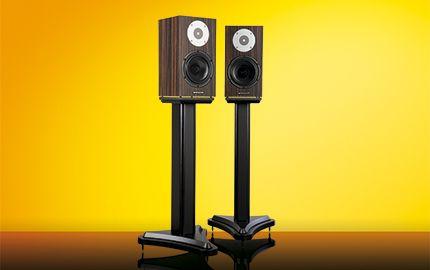 Spendor's new D1 is the greatest in a long line of mini-monitors that stretches back four decades David Price is impressed
Famed for producing loudspeakers since the days of the BBC LS3/5A back in the mid seventies, Spendor made vast numbers of the mini monitor as well as offering its own SA1, which shared the BBC design's tiny dimensions but was turned through 90°. The D1 you see here is the successor – the result is a tiny loudspeaker that's purposed to deliver extremely high-quality sound.
Purists may look on disapprovingly, but the venerable BBC design is virtually prehistoric by modern standards. The D1, however, uses the latest thinking in drive units, cabinet construction and bracing and crossover design – rather than being a rival to the BBC box, it's the spiritual heir. While it shares the size, it has none of the drawbacks; the LS3/5A's embarrassingly low power handling and insensitivity simply aren't an issue for the D1. Instead we have a thoroughly modern mini monitor.
Like the iconic BBC design, this new Spendor has an infinite baffle. The reason for this, says designer Philip Swift, is that doing it this way provides the best possible phase coherence, and also gives the benefit of far more controlled boundary reinforcement. The D1s are designed to work rammed against a rear wall or on a bookshelf, where they'll get a welcome extra thump down below.
Spendor has spent a lot of time on the woodwork; it uses asymmetric aperture bracing of its thin walls. The idea is not to store energy like a capacitor, but rather to let it disperse as fast as possible, and with as little resonance. Just like its big D7 brother, Spendor's 'Dynamic Damping' with small low mass constrained polymer dampers at key energy interface points convert energy into heat.
The D1 also gets two brand new D-series drivers. First is the 22mm Spendor Linear Pressure Zone tweeter, which has a sequential geometry micro-foil. Its stainless steel front plate forms a damped acoustic chamber directly in front of a lightweight woven polyamide diaphragm, and this incorporates a phase-correcting microfoil to equalise soundwave path lengths across the diaphragm surface. This also generates a symmetrical pressure environment on both faces of the tweeter diaphragm so the tweeter always operates in a balanced linear mode, says Swift.
Whereas the latter incarnation of its SA1 predecessor, launched in 2009, used Spendor's EP38 cone material, the D1 employs EP77 – a material first developed for the D7 last year – in a new 150mm size for its mid/bass driver. This is claimed to be rigid but non-resonant, and is mated to a cast magnesium alloy chassis, high efficiency motor system, optimised electro-dynamic damping. The polymer surround and elastomeric damped suspension minimise driver break-in time due to their stable molecular composition, Spendor says.
The two units swap over at 4.8kHz via a crossover sporting high linearity plastic film capacitors and high saturation inductor cores. No series attenuating resistors are used, and silver-plated copper wiring is fitted. The rear terminals are of super quality, but non-bi-wirable.
Sound quality
Come to the D1s cold and your first impression is the lack of bass, but once you're over this, you begin to find yourself impressed by just how big this speaker sounds – assuming you have a decently powerful amplifier, of course. Direct comparison with the old SA1 model shows that the D1 is a little more efficient, but it's still not good by modern standards. It's brilliant by LS3/5a standards, of course, but next to your average modern KEF or Tannoy baby box, the Spendor is quieter. So any prospective purchasers will need an amplifier of at least 60W RMS per channel to get decent levels even in a smallish room.
Suitably set up, run close to the back wall and toed-in just a touch it gives an unforgettable sound. Talk about squeezing a quart into a pint pot – it throws images wide left and right, in an amazingly unselfconscious way. Aside from an obvious lack of 'thump' and 'grunt' from the lowest octaves of the music, it shows absolutely no concessions to its diminutive dimensions. It is smooth, well integrated between the mid/bass unit and the tweeter, and yet has a naturally spry and airy disposition that's bubbling with detail. Fed Kraftwerk's Tour De France Étape 3, it bops along – of course, it loses all the body of that lovely thumping bass synthesiser, but still seems able to communicate its presence. You hear the leading edges, but not the actual thunderous bass itself. This works surprisingly well, as it allows the listener's brain to fill in the gaps.
Given a bit of hip-hoppy acid jazz in the shape of Galliano's Stoned Again, the D1 sounds like it is on springs. Wonderfully bouncy, the little box imparts the song's every rhythmic inflection and microdynamic accent. Elements of the mix dash around the room, these speakers throwing out a bewilderingly wide soundstage given their size. Inside this, things are balanced; vocals appear very intimate, with a fine texture to the singer's voice. Bass drums thunk with great speed and snares cut through the mix like the proverbial cutting implement through animal fat. The lack of overhang in the cabinet, added to the innate speed of the drivers, means that the music almost seems to be speeded up.
Feed the D1 with a well-recorded classical piece such as Karajan conducting the Berlin Philharmonic playing Beethoven's Pastoral Symphony on Deutsche Grammophon, and you're struck by the air and space. The new tweeter is streets ahead of the previous dome fitted to the SA1, offering more insight and atmosphere. The SA1's certainly isn't bad, but the D1's is superb at the price, indeed I am not sure you'll find a better HF unit on a sub £3,000 speaker. It isn't a fancy ribbon design, but has much of the openness, sparkle and lustre – this is most welcome with classical because it carries the subtle textures of the strings with impressive delicacy and refinement. It's able to snap everything into focus, and work in perfect unison with the mid/bass unit. Only on swinging dynamic peaks do you notice the D1's sound; generally it sounds wonderfully untrammelled, but when the music gets loud and complex there's a subtle sense of compression. Once again this is physics rearing its inevitable head, because there's only so much one 15cm cone can do on its own!
In absolute terms, this is the biggest issue with the D1, although you have to be running pretty high levels and even then the compression is less than any similarly sized box, including the previous SA1. Heidi Berry's Washington Square shows the D1 to be far better at tracking the dynamics of the various instruments, whereas its predecessor seems flatter and less detailed. Compared with some of the best full-size speakers there's a slight homogeneity to the tonality; it doesn't quite have an electrostatic-like insight into a recording, but is still excellent at the price.
Conclusion
It's not an easy life being a little loudspeaker, because the laws of physics loom large in your purview. There are many things a baby box simply cannot do, so the trick is to design a speaker that doesn't try, and focus instead of what it can do well. The new Spendor D1 does precisely this, and very skillfully too. It sounds remarkably expansive, spacious, detailed and dynamic considering its diminutive dimensions. It's also far better than the outgoing SA1 than the £300 price differential would suggest. So overall, I would say this is one of the very best mini-monitors currently on sale – or indeed ever made. It's an essential audition if you're spatially challenged or unwilling to let large loudspeakers change your life.
LIKE: Highly musical and detailed sound; excellent image projection
DISLIKE: No low bass means sound won't be to all tastes
WE SAY: Brilliant mini-monitor, one of the very best ever
DETAILS
PRODUCT Spendor D1
ORIGIN UK
TYPE 2-way standmount loudspeaker
WEIGHT 5.7kg
DIMENSIONS (WxHxD) 165 x 305 x 190mm
FEATURES
• Infinite baffle cabinet design
• 22mm linear phase hybrid soft dome tweeter
• 150mm EP77 polymer coned mid/bass driver
• 600mm stand option (£595)
DISTRIBUTOR Spendor Audio Systems
TELEPHONE 01323 843474
WEBSITE spendoraudio.com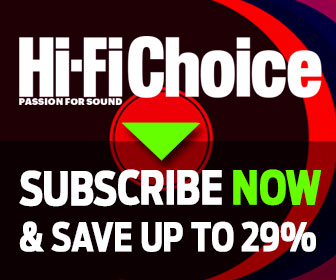 Inside this month's issue:

Cyrus Audio's i7-XR integrated, Neat Acoustics' Orkestra floorstander, Mark Levinson's No5105 turntable, JBL's L82 Classic loudspeaker and a six-way budget floorstander Group Test and much more...
Standout tracks from our
Music Reviews
section, plus our current favourites to play in the
HFC
office.