Vita Audio R4i - £550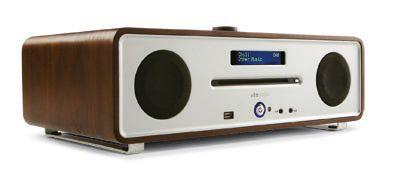 Space saver
For hi-fi-like sound in the office, kitchen or bedroom, Richard Black reckons the new, improved Vita R4i is the right tool for the job
Back in HFC 310, we had our first experience of the excellent R4 from Vita Audio – now here's the latest version of the same model, the R4i. The 'i' evidently doesn't stand for 'iPod', as that family of devices was supported from the outset. Indeed, you'll look in vain for features that weren't present on the original model. Vita Audio has put all the revisions under the bonnet, improving sound quality, the company claims, by a significant margin.
DAB+
Actually there is one new feature, though you can't make use of it yet: support for DAB+ radio transmissions. The standard has been formalised since the original R4 was launched and it's nice to know it's available for whenever transmissions start.
Regular DAB, of course, continues to be available, as is FM. For the rest, this is a well-supported player of all sorts of formats. We've already mentioned iPods (and iPhones etc.), but you can also plug in USB sticks and similar music players carrying files in the usual formats, play CDs (including MP3 and WMA data CDs) and connect external audio sources via phono sockets at the rear or a mini-jack at the front.
It already seems almost old-fashioned that there's no wireless link to a home computer network, so you can't play files from your PC/Mac or listen to internet radio. There are ways of adding that externally, though, and many people will manage perfectly well without.
Vita Audio is at pains to point out that this unit is more about sound quality than gimmicks, and its substantial chassis includes not only the front-facing stereo speakers, but a base-mounted subwoofer and 80-watt amplification.
Now say AAAA
We have one or two minor reservations. For one thing, the subwoofer is a little vulnerable and it's wise to be careful how one picks the unit up. Less serious, but perhaps more annoying on a daily basis, is that the ever-so-funky remote is the only way of controlling the unit and even when it's docked it relies on a pair of obscure AAAA batteries. Unlike AA and AAA sizes, these are not available from every corner store in the world and it would be a good idea to keep a few spares. Talking power, we love the simple fact that a three-metre mains lead is supplied – the kind of little detail that can save a few curses!
Natural or enhanced
There are various sound 'enhancement' options available in the shape of Loudness, Equaliser and 3D Sound. Last time round, we rather liked 3D Sound, finding that it added constructively to musical enjoyment with most sources. On this occasion we found it more of a mixed blessing and, from our memories and notes, that's mostly due to the improved basis sound the unit offers. There seems to be more immediacy to the sound than before, better detail and a greater sense of rhythmic 'snap' and taken together with the surprising volume on offer this all adds up to a very enjoyable listen. We're not just talking about background listening, either. With enhancements off and the volume turned up a bit, it's possible to get properly involved in the music – toes tapping and all.
Like most of its breed, the R4i is a little bright if one sits directly on axis, but the balance has been well judged and from most points in a room one gets a lively, but unforced balance along with a surprisingly good sense of space – though genuine stereo imaging is, as you'd expect, well behind any separate-speaker system.
Attractive option
As for the individual sources, CD and line in, of course, lead the way, but well-encoded files on USB sound very decent, too and iPod does its thing as well as we've heard from any analogue – connected dock. The FM radio is good: admirably noise-free, even via the supplied telescopic antenna and DAB is also fine.
It's a little bulky but if you want a single-box convenience system for non-critical listening this is still a very attractive option.
LIKE: Offers solid, powerful sound
DISLIKE: Useless without remote control; no built-in way to connect to a computer or the internet
WE SAY: The latest sound- quality tweaks ensure it continues to appeal

DETAILS
Product: Vita Audio R4i
Origin: UK/China
Type: One-box system
Weight: 8kg
Dimensions: (WxHxD) 450x145x255mm
Features:
• Slot-loading CD transport
• iPod dock
• USB (type A) socket
• DAB/DAB+/FM
• Line input (phono)
• Line input (mini-jack)
• Headphone output (mini-jack)
• Alarm functions
Distributor: Vita Audio
Telephone: 01702 601410
Website: vitaaudio.com


Inside this month's issue:

Marantz's SACD 30n & Model 30 SACD player/integrated amp, Acoustic Energy's AE520 floorstander, Pro-Ject's Debut Carbon EVO turntable, desktop DAC Group Test, John Lennon remembered and much more...
Standout tracks from our
Music Reviews
section, plus our current favourites to play in the
HFC
office.